High Res Band Photo (2.8 meg) | Stage Plot PDF | Booking | Listen| Past Shows | Myspace Page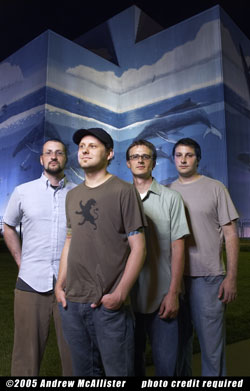 Cleveland's Infinite Number of Sounds is an instrumental electro-rock/media-art performance group that is quickly earning the acclaim of fans and critics. Experimenting with musical forms from breakbeat to barbershop, INS throws down elaborate multimedia-style live performances, mixing their music with projected digital video imagery edited live to the beat. The Pittsburgh Pulp describes Infinite Number of Sounds as "the ultimate visual/musical experience."
Infinite Number of Sounds' unique live program has been performed at art galleries, bars, salon-style "Happenings", converted warehouse environments, and art institutions like the Sculpture Center in New York City and the Toledo Museum of Art. INS has shared the stage with numerous renowned artists including ADD N to (X), Denali (Jade Tree), Town & Country (Thrill Jockey), Drums and Tuba (Righteous Babe), Midwest Product & Dykehouse (Ghostly International), Supersystem (Thrill Jockey, formerly El Guappo) and the Evolution Control Committee. The roots of the multimedia aspect of the show can be traced to 2001 when the group scored a video installation for a major mid-western science museum. This path continues as their music helps score several independent films and a new show on the Discovery Channel.
The core members of Infinite Number of Sounds, Ron Tucker, Matt Mansbach, David Mansbach, and Brent Gummow have worked together since early 2000. Ron and David, have been playing together since 1992, logging in more than 300 shows with critically acclaimed Art-Rock band Ribcage Houdinis and several other projects. In addition to playing drums for INS, Ron plays in a Bata' ensemble and has studied under Godwin Agbeli, a master drummer of the Ewe people in Ghana, Africa. Tucker also recorded and performed with Akron's trip-hop quartet, Racermason. David performs, writes and records with Infinite Number of Sounds, To Box With Man, and Trepanning Trio. Matt is a true multimedia artist, concentrating equally on painting, music, video, sculpture, and other three-dimensional pieces under the alias of Nemo Nemon. Brent has spent over a decade working with video and computers and in addition to doing the live video for INS, he is a sought-after web designer who also runs the Experimental Behavior website.
Infinite Number of Sounds is currently touring in support of their second full-length album, Radio Whales, which is available from the Infinite Number of Sounds Recording Company and can be purchased on-line at www.infinitenumberofsounds.com and at local CD shops throughout the region along with their first release Time Wants a Skeleton.