Electro-Rockers Infinite Number of Sounds Release One Final Collection
Electro-rock luminaries Infinite Number of Sounds release their 4th full-length album "Curio 2000-2012", a collection of songs written and recorded for one-off live performances, indie films and art installations, as well as several songs cut from their most popular release, Radio Whales, due to time constraints.

This retrospective collection contains 16 unreleased tracks from throughout the band's history, featuring music written music by the four original members of Infinite Number of Sounds (Brent Gummow, David Mansbach, Matt Mansbach and Ron Tucker) as well as contributions by Ed van der Kuil (Dink), cONScIENcE (Basement Love Underground), Jacob Wynne (Revolution Brass Band), Clayton Vaughn (Boulder Chamber Orchestra), Eric Alleman, Daniel Raible and Heather Manalili (ToBoxWithMan) and about a dozen zombie films.




New INS Track Appears on YEAR 10 Compilation!
Ten years ago, Infinite Number of Sounds Recording Company (INS Rec. Co.) offered up its first official release as an independent record label. The Infinite Number of Sounds 2001 Compilation featured 10-tracks by 4 Cleveland-based artists. We burned the CDs in our studio/living room, and Matt Mansbach (Nemo Nemon) painted each cover by hand. That compilation embodied our passion, ingenuity and DIY work ethic. It set the tone for the decade to come. Some tracks on that humble compilation would be polished and honed, and eventually appear on albums such as "Infinite Number of Sounds: Time Wants A Skeleton", "Nemo Nemon: To Mock and Love", and "Trepanning Trio: I Am a Crooked Arrow".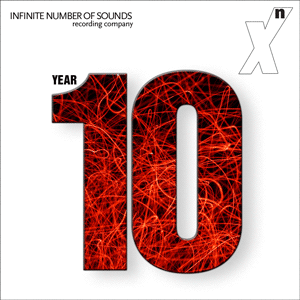 Infinite Number of Sounds Recording Company: YEAR 10 is INS Rec. Co's 25th release. It features 13 tracks by a family of artists that has grown to stretch from east coast to west coast. It represents 10 years of experimental, instrumental, electronic, and independent music. It is a testament of what is still to come. Included in the collection is a never before released track from the Radio Whales recording sessions called "Creeper Gear" that will be appearing on our upcoming "Curio: 2000-2011" retrospective release.
We hope you will enjoy this collection of singles and return to check out the 8 upcoming full-length albums represented. Download, sample, and share with your friends!
Thank you all so much for your support.
Here's to 10 more years! Brent & David
Infinite Number of Sounds Recording Company

New INS Album Available Now!!!!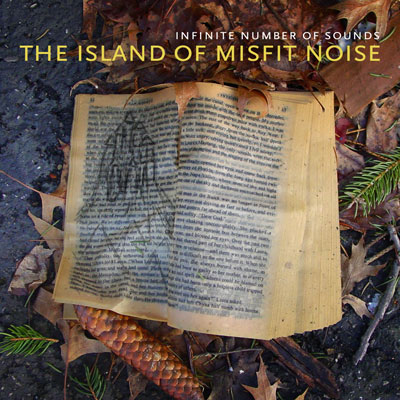 "The Island of Misfit Noise", the third and final album by Infinite Number of Sounds is now available for download in both standard and deluxe formats!
We also have a B-sides and rarities collection entitled "Curio"that will be coming out in a few months. It will include all the bonus material from all 3 INS deluxe downloads and several tracks that have never before seen the light of day. The collection should fill in the gaps between our traditional releases and we think it is something that our fans can all enjoy.

Archive of LIVE Webcast - Show 199
Recorded during a live set in our living room on March 12, 2009. Dave and I were joined by Matt Mansbach on camera and Pete Beurmann who directed and co-produced the broadcast. Cameos by Dave's son Ben, his cat Sherpa and several of his goldfish. Thanks to everyone who tuned in to watch it live on-air! Enjoy.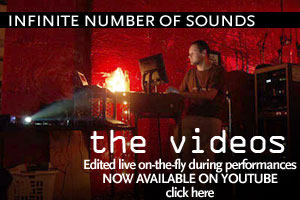 Infinite Number of Sounds is an electro-rock/media-art performance group from Cleveland, Ohio. Experimenting with musical forms from breakbeat to barbershop, INS throws down elaborate multimedia-style live performances, mixing their music with projected digital video imagery edited live to the beat.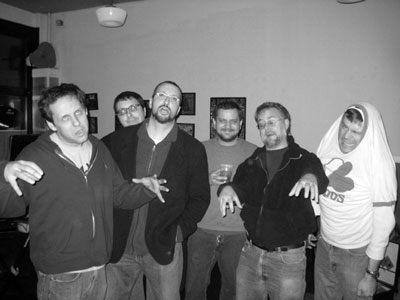 "While nobody was looking, the INS have built the perfect beast, equal parts rock quartet, studio wizards and multimedia ensemble."
~ Other Paper, C-bus, OH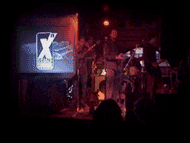 "Cleveland's never seen anything like them: half rock thrashers, half experimental video artists, half hip-hop break beatsters, half tripped out studio wizards - it all adds up to something sweet, sharp and sincerely new."
~ Cool Cleveland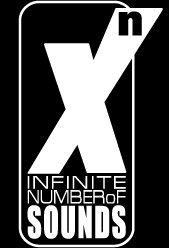 "Though all music is a form of art, Cleveland's Infinite Number of Sounds takes that idea and runs with it, mixing noise sampling, digital video imagery and experimental rock to the ultimate visual/musical experience."
~ Pittsburgh Pulp

Infinite Number of Sounds:

Brent Gummow
David Mansbach
Matthew Mansbach
Ron Tucker